Cadel's look'n the goods early in the season leading the Tirreno-Adriatico into the final TT stage. Cadel cemented his lead with a
brilliant ride on stage 6 smashing it up on the
Madonna del Monte
finishing climb.
The video of the last 2km of stage 6 (above) has to watched - Cadel fends of attacks left and right, from some quality ridders before smashing his rivals with some pure Aussie grunt! Watch at least the last 2km! So worthy!
Great to see BMC control the race and dictate the pace with Ballan and Hincapie providing good support for Cadel till the final climb. But that said Cadel's been holding off multiple attacks form team mates on Lampre and Liquigas exposed on the final climbs with no one else from BMC in that elite final climb finishing group. That said BMC did real well getting him to the final climb of st 6 and he showed thats all he needs!
In typical Cadel style he couldn't have looked more awkward in victory salute across the line. He's in need of a few victory salute repeats in the training program - and at the very least check this Cycling Tip's post - Victory salute like a PRO!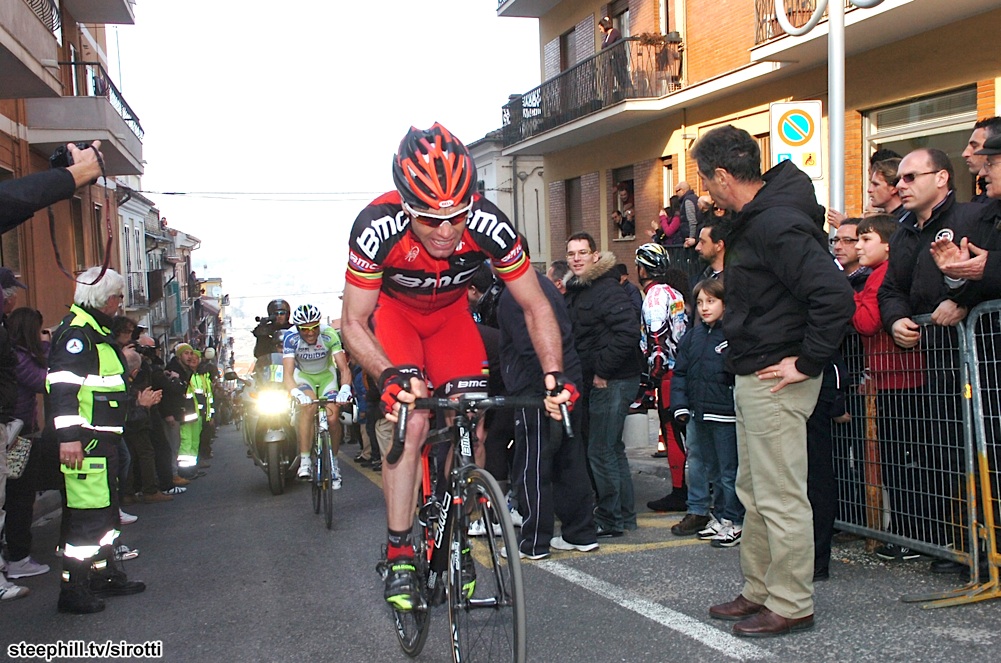 Cadel pulling back Scarponi on Stage 4.
Pic via
Steephill.TV
Also s

o impressed with Evan's epic push to the line on stage 4 to minimise losses after

Scarponi's well timed

attack.

If you liked the stage 6 video, check the stage 4 finish, Cadel's effort to drag back Scarponi = true grit!
Stage 4 video @WCC.youtube
I love Italian race's, pure hard man racing, long stages, gnarly little back country roads, finishing on sharp little climbs, 16-19% steep cobbled finishes, smoking hot podium girls, and a certain sense of disorganisation and unpolished coverage! So Euro, so Italian, so rad! FS
Thanks to
Eurosport
via Foxtel for the TV coverage each night + highlights on
the Eurosport
news channel, and the
World Cycling Channel
for the youtube packages, and
Steephill.TV
for there total package - best bits of the web - videos, previews, pics, news reports. As always thanks
Cycling Tips
for all your content.